A SUPERMOMS EFFECTIVE HOME SETUP FOR WORK, SCHOOL, AND PLAY
The pandemic has undoubtedly forced us to rethink how we go about our daily lives—especially when it comes to fitting in work, school, and playtime with the kids. Yes, it's been challenging, but it's also allowed us ample opportunity to get creative with our new routines and setups at home.
By experimenting with what works and what doesn't, we've been able to pinpoint exactly how we can make the most out of our day to day—something us supermoms hold in high regard. Sure, it can feel like we're heading into uncharted territory at times, but the journey can feel like one of the most rewarding experiences ever.
So, without further ado, here are some of the best things we've learned when it comes to transforming our super homes:

RETHINK THE HOME WORKSTATION SETUP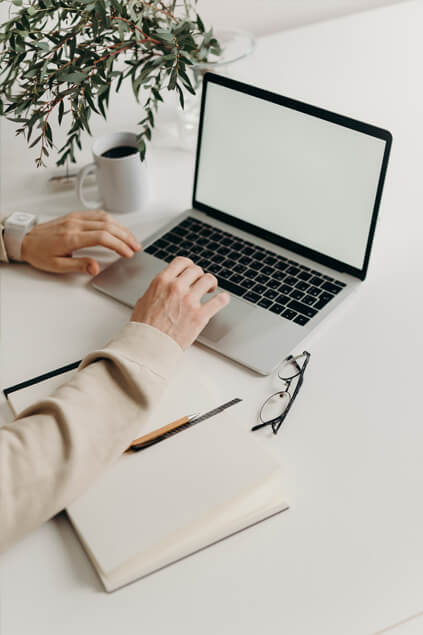 Link: pexels.com/photo/person-using-macbook-pro-on-white-table-4065864/
Building your own workstation might seem simple enough, but there's more to it than meets the eye. You need the proper space, proper equipment and even the proper body positioning! To save you the trouble, we listed down our favorite tips in making the most out of your home workstation:
Choose a corner of your room with good natural lighting that's free from distractions. The natural lighting helps put you in a better mood, while removing distractions helps you focus on your work and gives you more time to get your tasks done.
Purchase a comfortable chair to sit on, preferably one with lumbar support. Buying a good chair is important to prevent bad posture and you want to avoid that because it can lead to several health risks.
Keep the go-to materials like your notebook, pen, and beverage right by the side of your laptop. It's also helpful to prepare these items beforehand so you don't have to search for them later on when you need them.
Position the computer monitors so that you do not need to twist your neck, tilt your head, or arch your back. Limited head movement when in front of the screen helps you prevent neck aches and stiffness.
Position your keyboard directly in front of you so that your arms are at a 90 degree angle. By doing so, your forearms are supported and strain is kept to a minimum.
CREATE A MINI SCHOOL INSIDE THE HOME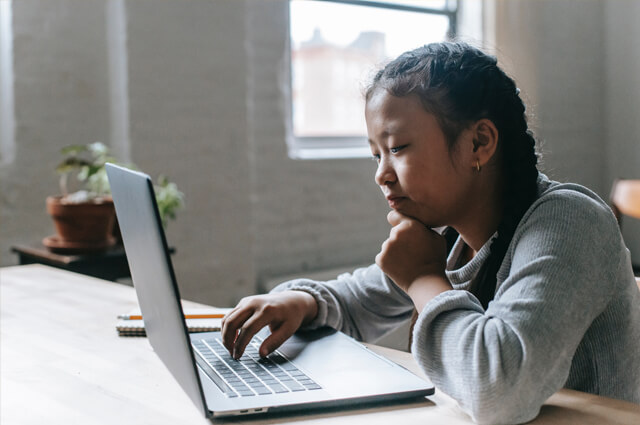 Link: https://www.pexels.com/photo/focused-ethnic-girl-studying-on-laptop-5905886/

Keeping a child's attention can be challenging. So, it's important to keep things interesting! If you're helping your kid during his or her online courses, here are our go-to tips for this unique experience:
Set up a quiet, clutter-free area without any distractions. Our homes have lots of them like video games, computer games, social media, TV, toys, and pets. Make a list of the things that take your child's attention away, then find ways to limit them during learning time.
Set a schedule for your kids. Finding time for learning requires planning. Take a look at your family's schedule and figure out what are the best times for learning.
Be proactive if your child is struggling in school. Try not to worry that you're interrupting. If you're not sure how to do an assignment, don't just guess, reach out to confirm. You may even want to set up a day and time each week to connect with the teacher.
Many children miss receiving reinforcement and reassurance from teachers and counselors. Building a reward system can help maintain motivation. Putting a check mark, star or sticker on a work assignment can go a long way to encourage a kid.
You may need to adjust your schedule as you go. If some class activities or subjects are more difficult, consider setting aside another time to work on that assignment. Try working with your children on more challenging tasks during the times of the day when they are most alert and engaged.
BUILD OUT A MORE THOUGHTFUL PLAY AREA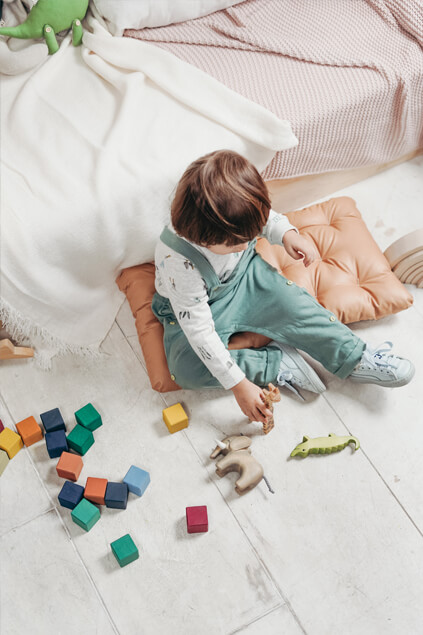 Link: https://www.pexels.com/photo/child-in-white-long-sleeve-top-and-dungaree-trousers-playing-with-toys-3661344/

Creating a space where children can express themselves through play is very important to their development. By designing and rethinking where your kids do that, it can inspire them to reach brand new heights. Here are some tips to create the perfect playroom your kids can enjoy for years to come:
Keep it simple. A playroom doesn't have to be stacked to the ceiling to be exciting for a child. The purpose of a playroom is to provide a child a space of their own to play freely without limits.
When we think of a playroom, we automatically think of toys. But a playroom doesn't have to be all about the toys. If it's designed effectively, a child can use it for any educational purpose. This includes art, science, writing, reading, and so much more.
Having a hideaway storage for toys is important. Whether it's under-the-bed storage bins, hanging storage in the closet, or bins that slide perfectly under a table.
A child will beg for a toy for weeks before a holiday or birthday, play with it for a bit and then quickly discard it to the wayside when they get tired of it, never to be touched again. A way to fix this problem is to gather up the toys in the playroom and rotate through them throughout a period of time.
A great way to instill responsibility and keep a sense of organization is to color code bins for each child. Have your child pick their favorite color and keep their toys in their own containers. A separate color for shared toys can also be used. This is also a great way to keep a playroom looking cohesive and uniform.
FORTIMA: GIVING YOU STRENGTH TO DO ALL OF THESE THINGS AND MORE!

Turning your home into an effective place for work, school and play requires dedication, perseverance, and strength. That is why Fortima is here to help! Fortima contains 500 mg Sodium Ascorbate (Vitamin C), 27.5 mg Zinc Sulfate Monohydrate (equivalent to 10 mg elemental Zinc) and 22 I.U. d-Alpha Tocopheryl Succinate (Vitamin E) that help you have strong immunity, a strong body, and healthy skin. Try Fortima to help you turn your home into a supermom's fortress!

Pag may lakas ka, iba ang ganda!

Click here to find out where you can get Fortima today.
SOURCES:
https://ctb.ku.edu/en/table-of-contents/implement/provide-information-enhance-skills/conflict-resolution/main#:~:text=Conflict%20resolution%20is%20a%20way,negotiation%20to%20r
https://medical-dictionary.thefreedictionary.com/Lumbar+support
https://www.health.harvard.edu/staying-healthy/3-surprising-risks-of-poor-posture